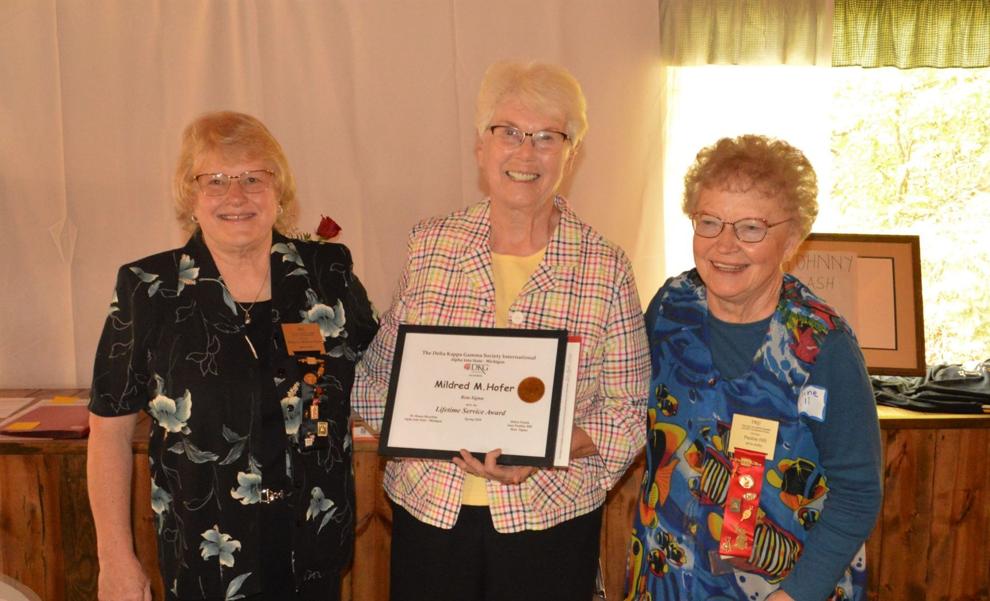 MENOMINEE—Mildred "Millie" Hofer was awarded the "Lifetime Service Award" from Delta Kappa Gamma (DKG) Michigan State Saturday. This award honors DKG members for their long-time commitment and contributions to education. Hofer has a lifetime of contributions to the education, health and well-being of countless children and adults.
The Mission of The Delta Kappa Gamma Society International is to promote professional and personal growth of women educators and excellence in education. Hofer is a valuable DKG member of Beta Sigma Chapter which includes women from Marinette, Menominee and Dickenson and Delta counties of Michigan.
She works tirelessly at DKG Spring Book Sales, serves on chapter committees and is always willing to try new things. As a committed member, she attends meetings and can always be depended upon to help in any way she can. To quote DKG Beta Sigma member Susan Seidl, "Millie treats each of us as if we were the only one in the room and is like sunshine on a rainy day."
Millie's background includes a Registered Nursing Diploma Degree from Bellin School of Nursing and a bachelor of science degree from Northern Michigan University in nursing. She is a registered nurse who certified and worked as a psychiatric, pediatric and public health nurse throughout her more than 40-year career. She is an active member on community boards and charities in the Menominee area.
Millie grew up in Germany where her future husband, Coach Ken Hofer, met her at a dance in her small town. After marriage, she left Germany with Ken and moved to the Stephenson area, but they now reside in Menominee. They have been married for 62 years and have two grown children.
According to the Beta Sigma Chapter, Millie continues to promote the best humanity has to offer and works towards achieving peace in the world. Congratulations to Millie on this well-deserved award. Thank you, Millie Hofer, for your contributions to education! Beta Sigma Chapter of DKG is proud to have you as a member!
For information about DKG, people may visit www.dkg.org.